By Patrick Farenga, President and Publisher, HoltGWS, and Founding Member of the Alliance for Self-Directed Education
Editor's Note: Clonlara School Founder Pat Montgomery's new book, The School That's Inside You, is now available. This foreword by Pat's longtime friend and colleague Patrick Farenga offers a glimpse at how the ideas that started Clonlara 50 years ago continue to make an impact today.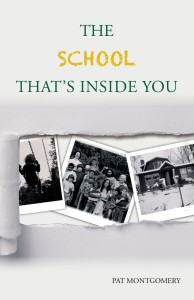 Pat Montgomery, as many a student, school official, politician, and lawyer learned, is a person to be reckoned with, though her origins don't clearly suggest she would be. Born to a first-generation, Irish, immigrant family with eight children, Pat was seventh. She studied to be a Catholic nun from the age of 13 and remained in the order until she was 24. As Pat writes upon leaving the order, "I had been well schooled: use your God-given brain and think for yourself; get your own house in order so that you can effectively serve others; pray for Divine guidance. All of these supported my decision to return to 'the world.'"
Pat uses her brain and service to others in many unique and positive ways throughout her life. Pat's stories of how she navigated the closed society of the convent and the open society of secular life are full of insight, but it is her journey into parenthood that changes her the most. Watching and helping her children learn made Pat decide that conventional school would be detrimental to her children, and so, in 1967, she started her own alternative school, the Clonlara school.
Pat went right to the source to learn how to run an alternative school—she traveled to England to speak with A. S. Neill, the founder of Summerhill School. As they talked about creating a school he told Pat: "Don't start a Summerhill; there's already one of those. Start the school that is inside you."
It turns out, there is a pretty big school inside Pat Montgomery! What started as a small, cozy place for her children to learn with others became a distance-learning school for homeschoolers who enroll from around the world, a model and support for alternative schools in Japan, and an advocate for homeschooling families in courts and legislatures in the United States, as well as in Sweden, Germany, Ireland, the U.K., and elsewhere. Though not a lawyer, Pat's self-directed education in the legal issues that surround alternative schooling are legendary and she is living proof that we can and do learn all the time.
Pat's energy and personal follow-through on these issues helped form and sustain the National Coalition of Alternative Community Schools for well over two decades. She also created or nurtured numerous educational programs at Clonlara, and participated in various efforts to create national and international advocacy groups for self-directed education and community schooling.
Pat and I met through our mutual friend, the late author/teacher John Holt. John's most popular book, How Children Learn, was published in 1967, so 2017 marks the 50th anniversary of both John's book and Pat's school. Pat's vision for Clonlara meshed with John's descriptions of active learners. As John writes in How Children Learn:
"When we better understand the ways, conditions, and spirit in which children do their best learning, and are able to make school into a place where they can use and improve the style of thinking and learning natural to them, we may be able to prevent much of this failure. School may then become a place in which all children grow, not just in size, not even in knowledge, but in curiosity, courage, confidence, independence, resourcefulness, resilience, patience, competence, and understanding."
Pat did not want her school to be a competition for grades and status and she took to heart the words of Holt, as well as from many other teachers and theorists who she writes about in her book. Pat's broad understanding of education and how children learn let her shake off the conventional classroom as the best place for learning to occur. Her vision enabled Clonlara to ride the currents of change into the 21st century, such as homeschooling, community service, and the internet.
You will be surprised and cheered by the many twists and turns of Pat's mind and experiences and amazed at how much one person can accomplish with a good team, which Pat always recognizes. Pat Montgomery followed Neill's advice well, and the school inside her is now solidly outside her and in the hands of a new generation.
About the Author: Patrick Farenga is a writer, publisher, and leading voice for homeschooling and self-directed education. In addition to writing the foreword to The School That's Inside You, he was the keynote speaker at Clonlara's 50th Anniversary Brunch. Learn more about his work by visiting JohnHoltGWS.com and the Alliance for Self-Directed Education.