Clonlara School's Class of 2022 includes 150 graduates representing 28 countries! They have earned scholarships and awards totaling more than $1 million to help pursue their passions and goals next year in the colleges and careers of their choice.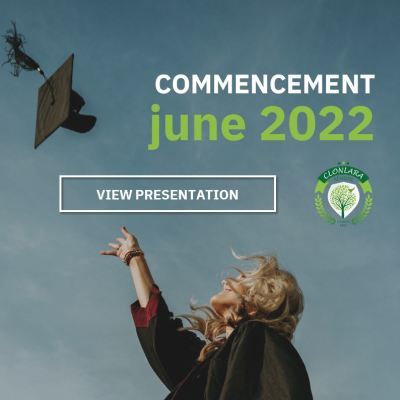 In keeping with Clonlara's philosophy of empowering students to participate purposefully and eagerly in their education, the members of the Class of 2022 took much of the responsibility for designing and following their own paths, and for meeting their educational goals. Because of this, we know that they will maintain their innate curiosity and continue to be self-confident learners in their future endeavors.
Today, we invite you to join us in a "virtual celebration" of these inspiring individuals' many accomplishments by viewing our graduation presentation, which includes family and staff messages for the Class of 2022, examples of the graduates' self-designed capstone projects, and much more.
Congratulations, Class of 2022! We are so grateful to have been part of your learning journeys, and we celebrate you for educational accomplishments, your individuality, and your perseverance in pursuing your passions!
Do you have a message for the Class of 2022 or a graduation story to share? Please tell us in comments below.