By Clonlara School
Landon Churchill epitomizes an emergency response professional, and then some. As a lieutenant with the Colorado River Fire Rescue, Landon's duties include company supervisor, incident commander, paramedic, structural and wildland firefighter, fire apparatus operator, field training officer, and technical rescue technician.
"The work fits me well," Landon says. "I'm generally a daring and flexible person, which is required in pre-hospital medicine and emergency services, where emergency scenes are dynamic, dangerous, and different every time."
Beyond his full-time position, Landon is also the EMS program coordinator for Colorado Mountain College. That work spans curriculum development and program management, development, training, mentoring, supervising a team of instructors, and instructing students in a variety of disciplines (e.g., EMT courses, intravenous therapy, CPR, and basic firefighting).
Commenting on his passion for instruction, "First, I think it's important to give back to the future generations. Second, I believe there is a great need for engaged, skilled, high-quality education in the public safety industry. Lastly, I find that teaching something is the most effective route to mastery, and I've learned as much from my time in the classroom, if not more, than my students."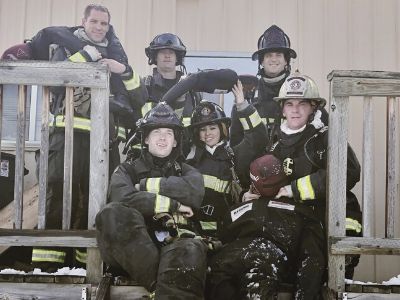 Landon launched his emergency services career as a volunteer, just after turning 18. He became certified as an EMT and firefighter and was soon hired by the fire department as an engineer (fire engine driver). Within several years Landon completed paramedic training; he has since completed coursework for critical care paramedic and been promoted to lieutenant. Going forward, Landon will pursue a bachelor's degree in emergency services administration, and be engaged in the National Fire Academy's Managing Officer Program.
For most people, that full plate as an emergency services professional would be enough. But not Landon. In addition, he is an accomplished businessman, entrepreneur, musician, and more. His family owns and operates a dance school, ArtillumA Dance Company, serving about 300 students. There Landon fulfills a wide range of management functions, and teaches dance to boot. Reflecting his commitment to education, he owns and operates a public safety education and consulting company called Big Red Fire Training. Landon and his mother are launching a new business venture—a luxury campground called The Marble House. Previously, he served as director of music ministries at a local church (he plays more than a dozen instruments!).
Along with, and as part of, his professional and business pursuits, Landon makes serving his community a top priority. He resides in Rifle, a town in the mountains of Western Colorado. "I've always loved working and serving in the community that I grew up in, and I truly believe this stretch of mountains to be one of the best parts of the country." He serves on the board of trustees of the Garfield County Public Library District, a special district with six libraries, serving about 50,000 patrons.
On a personal level, Landon is passionate about his two sons, reading, music, and food. He maintains a large library in his home, plays music regularly, and enjoys cooking and sharing meals (he especially likes Irish food). Landon also loves the outdoors, and spends a great deal of time camping and hiking with his family in the mountains.
Thinking back on his Clonlara experience, Landon relished the individualized, self-directed, Full Circle Learning approach the school offers. "As a student, having the freedom to explore the information that interested me, accompanied by the basic framework to help me quantify and receive credit for that learning, was the most enjoyable part. Instead of stressing about rubrics and metrics, I had the latitude to be excited about learning every single day during my school years, and every single day since."
"I believe that I was very well prepared for adulthood both academically and socially by Clonlara," Landon continues. "The most impactful attitude that I gained from Clonlara was the value of learning for its own sake, the spark of curiosity, and the love of exploration."
"Clonlara taught me to seek to understand things outside of my experience, to think critically, to ask hard questions, and to accept nuanced answers. It taught me to dig deeper and look further, and to get excited instead of discouraged when I encountered something I didn't know. Above all, the Clonlara approach to education helped me develop 'grit,' a trait better associated with adult success than any other."
Landon's advice to Clonlara students can be summed up in two ideas—know yourself and flexibility. "Students who know who they are possess the keys to their future. And a student who is flexible won't miss one great future because of a fixation on a lesser one." He also observes, "There is much more in the realm of what you don't know than what you do know. We view the world through a keyhole, which is scary and exciting." Landon concludes with these thoughts: "Never turn down a chance to expand yourself" and "learn about yourself and the world around you with an open mind, and you will be unstoppable."