By Clonlara School
Rose Edwards, the ocean, and its creatures are deeply connected. Since tidepooling on the coast of Maine as a child, Rose has spent most of her life at, in, on, or thinking about the sea in one way or another.
In 6th grade, her mom brought home a book from the library entitled The Deep: The Extraordinary Creatures of the Abyss by Claire Nouvian. The book's stunning undersea photographs sparked Rose's lifelong fascination with marine life, which was further fueled by a voracious appetite for marine life books and documentaries like the BBC's Blue Planet.
Rose's academic and career paths have been inspired by her love of the sea and its creatures. In high school, Clonlara's Off-Campus Program afforded her the flexibility to study marine biology and "spend a day at the ocean whenever I needed it, which was really important."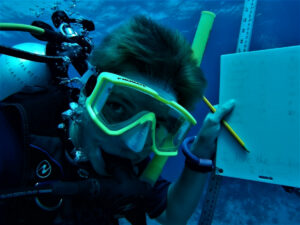 Right out of high school, she had a unique opportunity to live her dream. Encouraged by her mom, Rose attended an ocean-oriented camp for teenagers offered through Odyssey Expeditions, located in the British Virgin Islands. The program provided instruction in scuba, sailing, and marine biology; along the way she earned her Professional Association of Diving Instructors (PADI) Divemaster Certification. The camp experience was a defining moment for Rose—the "jumping off point" for her ocean odyssey to come.
The next venture was pursuing Marine Science at College of the Atlantic (COA) in Bar Harbor, Maine. While at COA, Rose undertook two study abroad programs in her junior year. The first was at a marine research station on a remote island in the Caribbean where she collected underwater data. The second was with SEA Semester on a 134-foot schooner sailing the coast of New Zealand. In addition to these programs, she did two internships with Acadia National Park, teaching children about tides, marine creatures, photojournalism, and more.
Importantly, COA also provided Rose the opportunity to develop two additional passions, art and writing, in combination with marine studies. These three subjects came together in her senior project, "The Art and Ideology of Bodies," which included oil paintings and charcoal drawings of people, marine creatures, bodies of water, and celestial bodies. She also self-published a book, Bodies: Women, Water, and Wonder, featuring her artwork along with creative prose and poetry.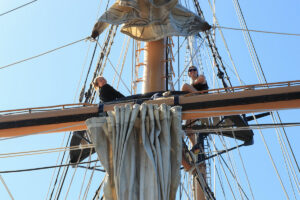 Since graduating from COA in 2018, Rose has been sailing a lot (sometimes with SEA Semester) and painting between gigs. This past summer she worked for Sail Acadia as crew on a 42-foot Friendship sloop, taking tourists on day sails and teaching them about local history, fishing, and marine wildlife. Rose aspires to obtain her captain's license within a couple years, which is uncommon for a woman her age, but she wants to defy traditional expectations. Rose eventually wants to secure a job in ocean conservation.
For fun, Rose enjoys performing comedic improvisation. In addition to being an outlet for de-stressing and unwinding, "improv" has helped her grow in many important areas—public speaking, thinking on her feet, making quick decisions, collaboration.
Looking back at her Clonlara experience, Rose recalls, "I loved having the time and freedom to do what I loved doing—and often getting school credit for it. Instead of squeezing life into the cracks between school and homework, my life became my education." Recognizing the special developmental needs of teenagers, she adds "And we can't forget sleeping late!"
Reflecting further on the value of her Clonlara education, Rose emphasizes, "Independent work was essential in college, so Clonlara's need for self-motivation really kick-started my ability to do that. Additionally, by allowing me to focus on my passions, Clonlara gave me the opportunity to figure out what subjects I loved before going to college, which was important in deciding which college to go to."
It definitely laid a strong foundation, preparing her for a demanding, multifaceted life post-college, in which time management and drive are critical. "There are basically no tests in life after school! It's all about processes, projects, and connections."
Rose's advice to Clonlara students: "Try lots of new things, because you never know what you're going to love." Also "don't worry where you are in comparison to your peers at other schools. What matters is that you are growing!" And finally, "Have mentors of all ages throughout your life. Advisors and role models have been essential for me; they give great advice, listen well, and often show me that I have more options than I think. It may take a while to find a mentor with whom you click, but if you're lucky you'll find each other."
Does your student have a passion for a particular subject like Rose? Please share how they are tailoring their learning experience to their interests.