By Clonlara School
Devan Vane is a current senior at Clonlara School. He's been enrolled in the Off-Campus Program for nine years and lives in California. He describes himself as an 18-year-old dwarf who is passionate about history and politics.
Devan is having a senior year to remember! He's always been interested in history and politics, but for the past few months, he's been able to work and travel with the Pete 2020 campaign and experience a presidential campaign firsthand. We reached out to Devan to find out more about this unique opportunity.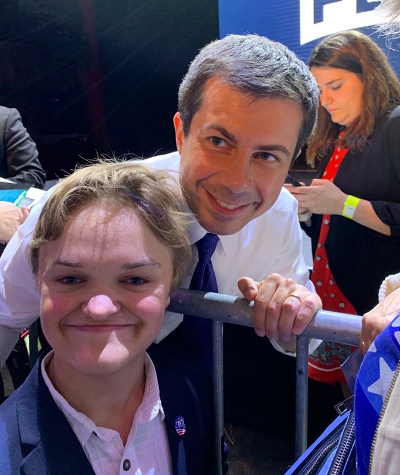 How did you become interested in volunteering with Mayor Pete Buttigieg's campaign for president?
I was looking for volunteer opportunities, and while at a local festival, I saw a booth for the Young Democrats for America. That's when I got the idea to try and volunteer for a political campaign. I've always been interested in politics in history. I turned 18 this year and am so excited that I get to vote in the upcoming presidential election.
Have you been able to travel with Mayor Buttigieg's campaign?
I traveled to California to man a booth at the Goleta Lemonfest; Des Moines, Iowa, for the Liberty and Justice Dinner; Long Beach, California, for the CALDEM Endorsement event; Camarillo, California, for the Holiday Faire 5K run to represent Mayor Pete; and I am traveling to Las Vegas, Nevada, in February for the next Democratic National Debate. It is my plan to continue traveling to caucus for Pete around the country.
What has been your favorite part of the experience so far?
My favorite part is being part of a team dedicated to help get Mayor Pete elected president. Our local group is Ventura for Pete, which covers Ventura County in Los Angeles. My job is creating summaries of Pete's policies. I have enjoyed meeting new people at our "Pete-Ups" and sharing why I think Pete is the best candidate for president based on his thoughtful policies.
Tell us about something you've learned from this experience.
Volunteering for a campaign has been an amazing experience that opened my eyes about political races. I have learned that it takes a large number of volunteers and a lot of time to build a grassroots campaign for a candidate.
Is there anything that has surprised you about your work on the campaign?
I'm surprised at how nervous I became doing phone-banking for Mayor Pete. I felt that I got tongue-tied when leaving phone messages; it's so much easier to talk directly to people.
How has your enrollment with Clonlara enhanced your ability to pursue politics?
Being a Clonlara student has really helped me to pursue my interest in politics. Because I am free to learn in any environment, a lot of my education doesn't happen at a desk but out in the real world.
What advice do you have for other Clonlara students who might be interested in politics?
I encourage other students to get involved in a political campaign, but I know that it is hard work. If you are willing to get out of your comfort zone, you may find new skills you didn't know you had. You may also find areas that need improvement, like leaving phone messages. It's also a great opportunity to meet new people who share a common goal.
What's next for you after graduation?
When I graduate from Clonlara this spring, my parents and I will go on an extended summer holiday to Norway and England. I'm visiting historic sites in preparation for the next phase of my life. I will be attending Trinity College in Hartford, Connecticut, where I plan to major in English history and political science.